About Media Centre Department
Digital archives Ujazdowski Castle Centre for Contemporary Art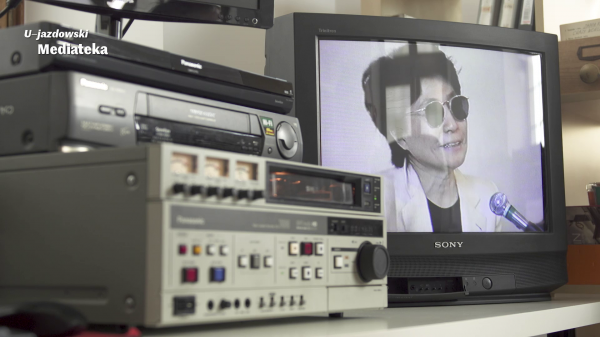 Mediateka – multimedia library - is an information center and a source of documentary materials related to contemporary art and memories regarding it. It functions as the internet / an online space in which sources of inspiration and knowledge are shared. We would like to keep the promise to give access to all our resources / to make all our resources available to all through presentations of several topics of our collection and digitalized data gathered and stored by us till now and continuously updated and complemented.
Mediateka – the multimedia library of the Center for Contemporary Art at Ujazdowski Castle is for us one of the most important tools to present, to disseminate and to educate, in the information era we live in, about contemporary art and its history both in the context of the Centre for Contemporary Art and its history and in the context of Polish and international art history.
We try our best to give you an opportunity to have kind of travel in time. You will be able to watch fantastic digitalized 'vintage' audiovisual recordings, including recordings of performances, concerts, events at festivals, and finally a series of digitalized 'vintage' documentary photographs of exhibitions and accompanying documents and posters.
We have already published almost all materials from the period of 1988-1997, but we still will be working on their descriptions and interpretations and share both them and narratives related to them after they are ready and completed. We encourage you to explore in our unique resources.
All digital materials, which - due to restrictions imposed by copyright law - cannot be made directly accessible online, can be made available after previous contact with the Mediateka employees. If it happens to be such a case please let us know about it using the following address: mediateka@u-jazdowski.pl
Film etudes Media library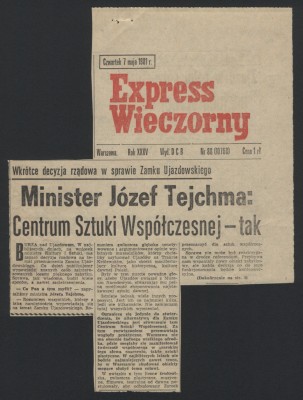 Zamek Ujazdowski przetrwał II wojnę światową. Ocalałe mury rozebrano w 1954 r. Na miejscu budynku miał stanąć Teatr Domu Wojska Polskiego, nie doszło jednak do realizacji tych planów. Na początku lat 70., wraz z decyzją o odbudowie Zamku Królewskiego w Warszawie, postanowiono odbudować także Zamek Ujazdowski. Z inicjatywy Aleksandra Gieysztora, Stanisława Lorentza i Jana Zachwatowicza postanowiono odbudować zamek według projektu Piotra Biegańskiego. Budowa ruszyła w 1974 r. Pierwotnie planowano funkcje reprezentacyjne. Termin oddania budynku (zakładano 1978 r.) był sukcesywnie przesuwany na późniejsze lata. W 1981 r. Zamek Ujazdowski przekazano w gestię ówczesnego Ministra Kultury i Sztuki, który 15 października 1981 r. zadecydował o przeznaczeniu Zamku Ujazdowskiego na Centrum Sztuki Współczesnej. 7 czerwca 1982 r. prezydent m.st. Warszawy przekazał ministrowi kultury i sztuki Zamek Ujazdowski. Instytucja jednak nie powstała, aż do lipca 1985 r., gdy Centrum powołano faktycznie po raz drugi. Przewodniczącym Zespołu był Jan Karczewski, późniejszy dyrektor Centrum Sztuki Współczesnej (sprawujący tę funkcję w latach 1986-1988).
Statut Centrum Sztuki Współczesnej uchwalono 1986 r. Wykończono pomieszczenia na poddaszu, do Zamku przeniosła się redakcja "Sztuki". Działalność Centrum Sztuki Współczesnej w Zamku Ujazdowskim zainaugurowano 10 marca 1986 r. Dyrektorem instytucji był podówczas Witold Bobiński (od kwietnia 1985 -1986). W tym czasie w CSW powstały: Ośrodek Informacji i Dokumentacji Sztuki Współczesnej, Galeria Zbiorów Polskiej Sztuki Współczesnej, Dział salonów ekspozycji czasowych i studiów imprez artystycznych, Biblioteka, oraz początki wideoteki. Zaś na poddaszu zaprezentowano wystawę grafik, przekazanych przez Zarząd Główny Związku Polskich Artystów Malarzy i Grafików. W maju 1988 r. minister kultury i sztuki powołał na stanowisko dyrektora Centrum Sztuki Współczesnej w Warszawie Michała Matuszyna (dyrektor w latach 1988 - 1990). Rok 1988 przyniósł zapoczatkował działaność instytucji z prawdziwego zdarzenia. Wśród pracowaników pojawili się m.in.: A. Mitan, A. Kępińska, A. Wiśniewski, W. Borowski, A. Dłużniewski, J. Byszewski, B. Kowalska i wielu innych. Międzynarodowe Seminarium Sztuki zorganizowane w 1988 r. zainaugurowało działalność ekspozycyjną Centrum Sztuki Współczesnej Zamek Ujazdowski. Kolejnym dyrektorem pełniącym tę funkcję przez dwie dekady został Wojciech Krukowski (w latach 1990–2010). Centrum w tym czasie stało się jedną z najważniejszych instytucji zajmującą się sztuką współczesną w Polsce. Wystawiali tu m.in: Abakanowicz, Althamer, Bałka, Dróżdź, Gierowski, Kantor, Kozyra, Kulik, Libera, Opałka, Stażewski, Tarasewicz, Wodiczko, Żmijewski i wielu artystów zagranicznych: Boltański, Gormley, Holzer, Kabakow, Kosuth, Long, Mach, Oppenheim, Oursler, Pistoletto, Serrano.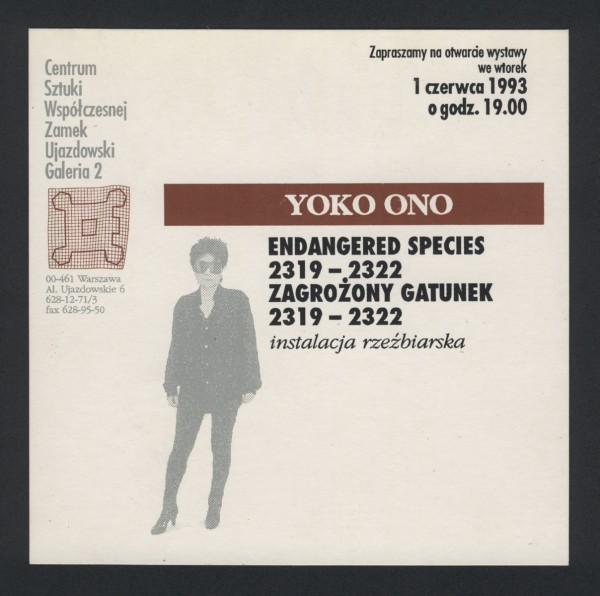 W 1985 roku powołano Ośrodek Informacji i Dokumentacji Naukowej, którego zadaniem było tworzenie, gromadzenie, opracowywanie i udostępnianie dokumentacji najistotniejszych zjawisk sztuki najnowszej w Polsce oraz wybranych działań polskich artystów poza granicami kraju.
Wiodącym działaniem Ośrodka było tworzenie i upowszechnianie szerokiej informacji o polskich twórcach i dla polskich twórców. Aktualnie w zasobach U–jazdowskiego znalazły się setki tysięcy dokumentów: katalogów wystaw, druków ulotnych, informacji prasowych, not biograficznych, rękopisów, fotografii, zapisów wideo i nagrań dźwiękowych.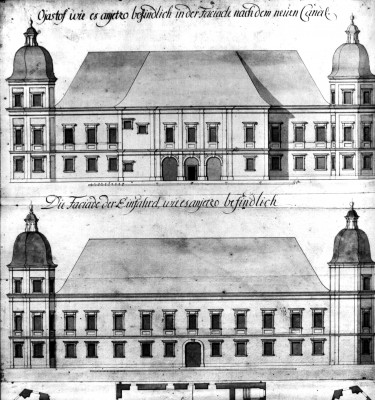 The history of the Ujazdowski Castle dates back to the 17th century, when the construction of a brick castle for Sigismund III Vasa began next to the wooden Ujazdów seat. Successively, Władysław IV and Jan Kazimierz resided in it.
In the second half of the 17th century, the Crown Marshal Stanisław Herakliusz Lubomirski, who made the castle your headquarters. After his death, was estated of King Augustus II, who built the 820-meter-long Piaseczyński Canal on the main residence, stayed permanently. The canal was the second, after Versailles, to be a baroque water structure. In 1766, the castle was purchased by Stanisław August Poniatowski. In 1809, a hospital hospital was located in the Castle.
After regaining independence in 1918, the intention was to achieve marital status, but from 1922 it housed the Military Sanitary School, and between 1930 - 1939 it operated the Sanitary Training Center.
The castle survived the war years, but the interiors were burnt, the main substance of the walls was preserved. Initially, it was planned to rebuild the castle in its 17th-century model, but in 1954 the castle walls were pulled down.
In the 1970s, on the initiative of Aleksander Gieysztor, Stanisław Lorenz and Jan Zachwatowicz, it was decided to rebuild the castle according to the design of Piotr Biegański in the early Baroque version. In 1981 a decision was made to hand over the Ujazdowski Castle for the cultural object. Since 1985, it houses the Center for Contemporary Art - Ujazdowski Castle.